New Experiences. New Revenue Streams.
Retail Service Design in a COVID-Conscious World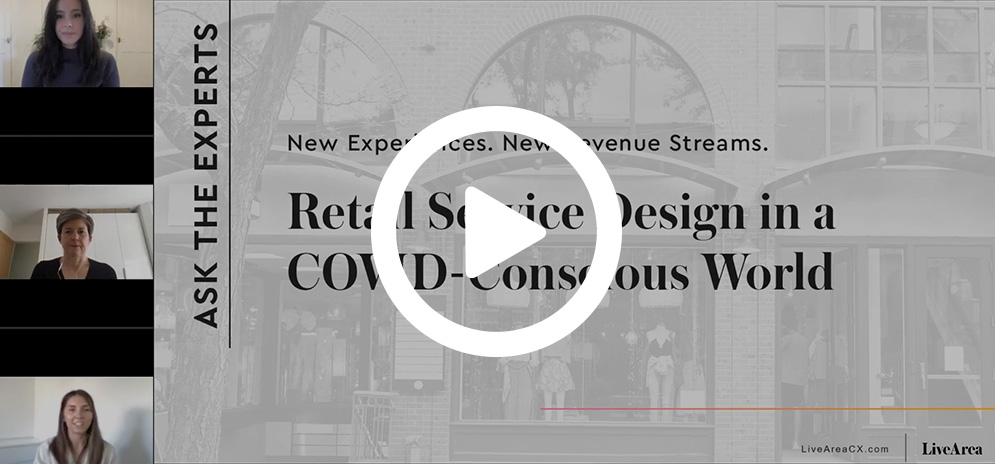 As high street shops open, smart retailers are looking for ways to connect their digital gains to their physical spaces. Intelligently executed digital and physical experiences can ease anxiety and create new revenue opportunities.
So, how do you bring together new technology platforms and customer data sources to optimize in-store opportunities? Service design is the answer.
Our LiveArea experts, Head of Strategy, Samantha Mansfield and Associate Director Experience Design, Noelle Smith, uncover how you can bring new services to life online and in-store to extend your brand value.
A roadmap to orchestrate the people, platforms, processes, and data behind an experience - a chance to see your brand and how you serve customers in a new light. 

Understand customer issues and pains points in your business.  
Uncover ways to elevate experiences and identify weaknesses to correct.
Discover opportunities for service expansion, natural extensions that will delight customers.
Bridge cross-department efforts and breakdown siloes.
Create new efficiencies in service delivery.
Samantha Mansfield | Head of Strategy, LiveArea EMEA
Samantha is an experienced strategy leader with a focus on human outcomes in digital product and service design. During her 20+ year career she has worked across various industries in both client-side and agency teams including finance, education, healthcare, life-sciences, health & beauty, and consumer packaged goods. Leading brands she has worked with include adidas, L'Oréal, Saudi Aramco, PerkinElmer, Fidelity Investments, Vauxhall, State Street, Enterprise Rent-A-Car and more. Samantha's thoughtful and flexible approach to strategy and design has led to the launch of successful products, applications and services. Well-versed in research techniques and approaches she believes there is always time and budget to make decisions based on evidence.
Noelle Smith | Associate Director Experience Design, LiveArea EMEA
Noelle is a human-centred designer who specialises in crafting effective and memorable experiences with a holistic and evidenced-based approach. She believes in empathy for not just the customer, but all the employees who enable services.
Noelle has worked across the globe from London, Paris, and New York to Singapore, Shanghai, and Australia in multiple sectors, including technology, finance, travel, automotive, fashion and beauty, and most notably, luxury retail.
Over the past 15 years she's worked with many high-profile brands such as the Louis Vuitton Moët Hennessy Group, Versace, Tom Ford, Condé Nast, Unilever, Rimowa, Tag Heuer, Canali, and Target.
LiveArea is a full-service, award-winning global customer experience and commerce agency. We bring together a broad portfolio of services for end-to-end solutions – from data-driven marketing and omni-channel experience design through technology selection and platform implementation, fulfillment, customer care, and orchestrated services, the next evolution of managed services. Clients cover a variety of verticals, including health and beauty; fashion and apparel; luxury; consumer packaged goods, retail; automotive; and business to business.